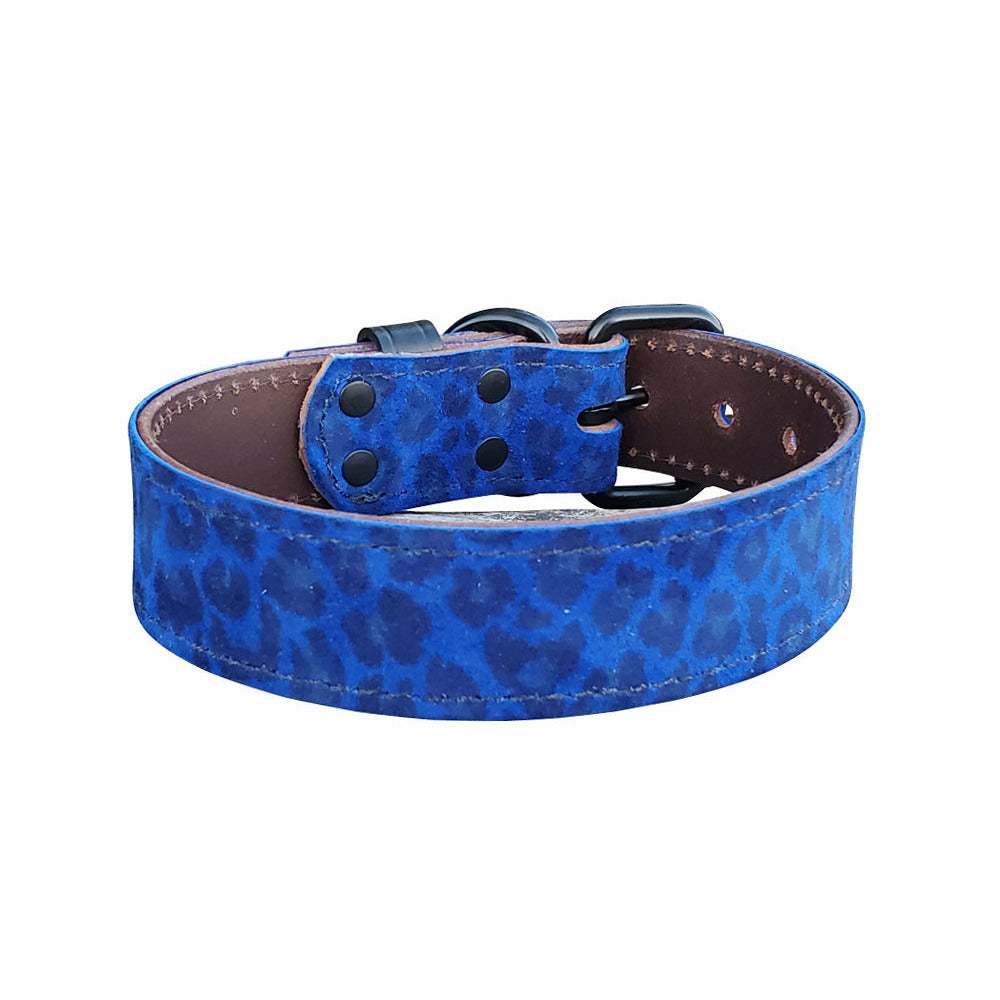 Blue Leopard Animal Print Dog Collar
Blue Leopard Animal Print Dog Collar
This wonderful genuine leather dog collar is made from heavy duty 10 oz Napa leather. Collar is made with blue leopard Print Leather sewn on top of 10oz leather. Black powder coated buckle and hardware are riveted in with a heavy duty press. You may choose a different colored hardware from the drop down.
SIZING INFO;
If your dog has an 18" neck and is full grown, we suggest a 16"-20" collar for a perfect fit. (We don't go by the total length of the collar)  If your dog has an 18" neck and is still growing, 18"-22" is the best size collar to choose. 
-If you do not have a tape measurement, use a ribbon or a shoe lace to wrap around your dog's neck. Mark where the two fingers meet and measure against a ruler. 


Available sizes 
10" to 14"  = 26cm-36cm
12" to 16"  = 31cm-41cm
14" to 18"  = 36cm-46cm
16" to 20"  = 41cm-51cm
18" to 22"  = 46cm-56cm
20" to 24"  = 51cm-61cm
22" to 26"  = 56cm-66cm
24" to 28"  = 61cm-71cm
26" to 30"  = 66cm-76cm
28" to 32"  = 71cm-81cm 
For larger sizes please contact us. 
Note; larger sizes may have a price increase
***Please make sure to measure your dog's exact neck size. We encourage you to order the best size frame that will fit your dog to avoid the 35% Return/Stocking Fee. If you are unsure of which size that will best fit your dog's neck, please do not hesitate to contact us and we will be more than happy to assist you.***
---
---
More from this collection